Self-Service Car Wash
CENTRAL GARAGE CAR WASH HOME OF THE 5 MINUTE START TIME - THE LONGEST IN CENTRAL VIRGINIA.
Five minute start times mean you get the most for your money without wasting wash-time loading quarters. Central Garage Car Wash has four cleaning bays and one exterior bays so that you never have to wait to get your car clean. Each cleaning bay features long wash times so that you can be sure to have the time you need to get your vehicle clean. With grime cutting pre-soak chemicals and powerful pressure washing wands you are sure to power through the dirt to bring your vehicle back to looking new. The exterior bay is perfect for over-sized and high-profile vehicles that won't fit in a traditional car wash bay. Stop by today and experience the power and value that Central Garage Car Wash located in Aylett, Virginia can provide.

EXCEPTIONAL VALUE FROM THE START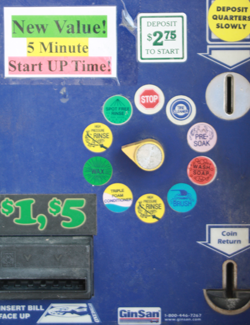 The Central Garage Car Wash self-service bays boast exceptionally long start times to maximize your clean.
Tire Cleaner
Zep Low PH Soap
Armorall Citrus Pre-Soak
Armorall Watermelon Hi Pressure Soap
Zep Cherry Foam Brush Soap
Armorall Body Shield
Armorall Bubble Gum Sealant