Sit Back And Let Us Do The Work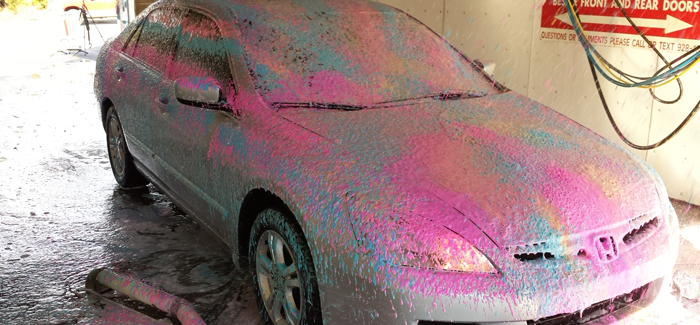 CENTRAL GARAGE CAR WASH HAS BEEN SERVING CAR LOVERS IN AYLETT, VIRGINIA FOR MORE THAN A DECADE.
The auto-wash at Central Garage Car Wash works hard so you don't have to. We have the latest in car wash technology to get even the toughest road grime off your car. Low and high PH presoak soaps make lifting dirt and grim a cinch without the harsh abrasive action of a bush-type wash. Powerful rocker blasters power off bugs and tar from the bumpers. Armor All tri-foam polish restores and protects your paints finish. Waxes with built-in bonding agents help repel water, smooth over light scratches, protect your car's clear coat and protect from the oxidation effects of the sun. Wax drying agents reduce drying time. Central Garage Car Wash has your car covered. Pull-off into the sunset without even breaking a sweat.
Environmentally-Friendly And Powerful
The Central Garage Car Wash touchless automatic wash utilizes biodegradable cleaning agents and reclaimed water to reduce our environmental footprint. In addition to our environmentally-friendly washes we offers multiple options to maximize your clean. Whether your car just needs a quick wash to freshen-up the shine or a longer more thorough wash to get those tough road elements off your vehicles paint, we can handle it all. Our premium wash package includes free vacuum tokens to help clean up the interior as well.


BASIC
Pre-soak
Dwell
HP Wash
Drying Agent
Spot-Free

DELUXE
Rocker
Pre-Soak
Dwell
HP Wash
Drying Agent
Spot-Free
Power Dry

ULTIMATE
Rocker
Pre-Soak
Single Foam
Dwell
HP Wash

RAIN-X ULTIMATE
Rocker
Pre-Soak
Single Foam
Dwell
HP Wash
Total Body
Spot-Free
Power Dry